Early post-WWII Martian invasion references

In 1896, British author H. G. Wells first popularized the idea of an intelligent civilization on Mars hell-bent on invading Earth in his sci-fi novel "War of the Worlds."  Orson Welles did a radio play version of "War of the Worlds" on Halloween, 1938, creating a national scare. You see many references to Welles' and his infamous broadcast, even before the "flying saucers" made their dramatic appearance in late June 1947.  The saucers were also often compared to Welles and his broadcast as examples of public mass hysteria or on their grip on the popular imagination . Also notice many references to possible aliens in flying saucers being "men from Mars" (only very rarely as "aliens").  Most of the time, such references were made sarcastically, whimsically, or dismissively, but not always, particularly with letter writers or some columnists.

Charles Fort was also the first researcher to document printed accounts of unknown aerial phenomena earlier in the century and to speculate that they might be extraterrestrial visitations.  There are also a number of references to Fort's work when the saucers finally appeared in a big way in the U.S.

Bradford (PA) Era, p. 1, July 9, 1947

America's Newest Guessing Game—What Are Those Flying Saucers,  Were Are They From, Where Do They Go?

Kingsport (TN) News, Wednesday, p. 1, July 9, 1947

Bughouse Square Has Answer—Several Of Them In Fact—To 'Flying Saucers'

Nashville Tennessean, p. 1, July 9, 197

All Over the Nation People Talk Saucers

--T-Bone Steaks High in the Sky Or Propaganda

By Bernard Gavzer

Chicago—AP—"Bughouse Square, Chicago's refuge of the self-styled Intelligentsia, Tuesday attributed the flying discs to everything from Martian exploration to 'planes carrying T-bone steaks because they're an high.'  …Herbert 'Cosmic Kid' Shaw said he favors a theory that the discs are evidence of activity from other planets.  He said this is probable because even science now has a 'wide open view of the possibility that life exists on some planets.' 

The people in Mars 'have an understanding of cosmic process in advance of ours and have a theory that the interpenetration of radiation of energy into interstellar space holds the solar systems together,' Shaw said, all in one breath too.  He added that the Martians now are making explorations to prove their cosmic theory and that this explains the flying saucers.

'Porkchops Charlie,' a knight of the open road and mouthpiece for the hoboes of America, said he witnessed flying discs numerous times 'mostly while riding the boxcars.'  He declared he believed the saucers were moving shadows between the sun and earth that travel so fast that they deceive the eye because of their 'electric vibrations'."

It Was Bound to Happen

Huntington, W. Va.—AP--…A subscriber called the Herald-Dispatch Tuesday night and inquired anxiously if it was that Hal Boyle was the prisoner of the green-haired O'Rune from Mars aboard a flying saucer.  The AP columnist in his stint for Tuesday had related the fanciful incident, which had its origin in a New York beer garden.  P.S.:  Another chapter of Boyle's hair-raising adventure will appear in Wednesday's edition.

Nashville Tennessean, p. 1, July 9, 1947

All Over the Nation People Talk Saucers

--Local Student Says He Saw Disks Over City

One man, apparently sane and sober, wrote the editor of The Nashville Tennessean, a long interesting letter about his brush with a couple of Men from Mars on a nearby flying field.   These strange little men, "all heads and arms and legs, glowing like fireflies," landed and alighted from a flying saucer as he drove along a highway, the man wrote.  The man from Nashville and the Men from Mars exchanged greetings (in sign language) and the saucer finally took off in a cloud of dust, so the letter says…

Prescott (AZ) Evening Courier, p. 2 (Editorial), July 9, 1947

Everybody Sees 'em!

…Those flying discs, saucers, whachamacallums.  …About as sensible explanation of what these strange things are as we have seen is found in Hal Boyle's story of his ride on the darn things.  He says they come from Mars.  Well, maybe he's right.  …And until the army or navy or the powers that be choose to release come information about them, your guess is about as good as ours as to what they can be.  …they may be like the great sea snakes which mariners are seeing every now and then, maybe a myth, maybe real, maybe an optical illusion.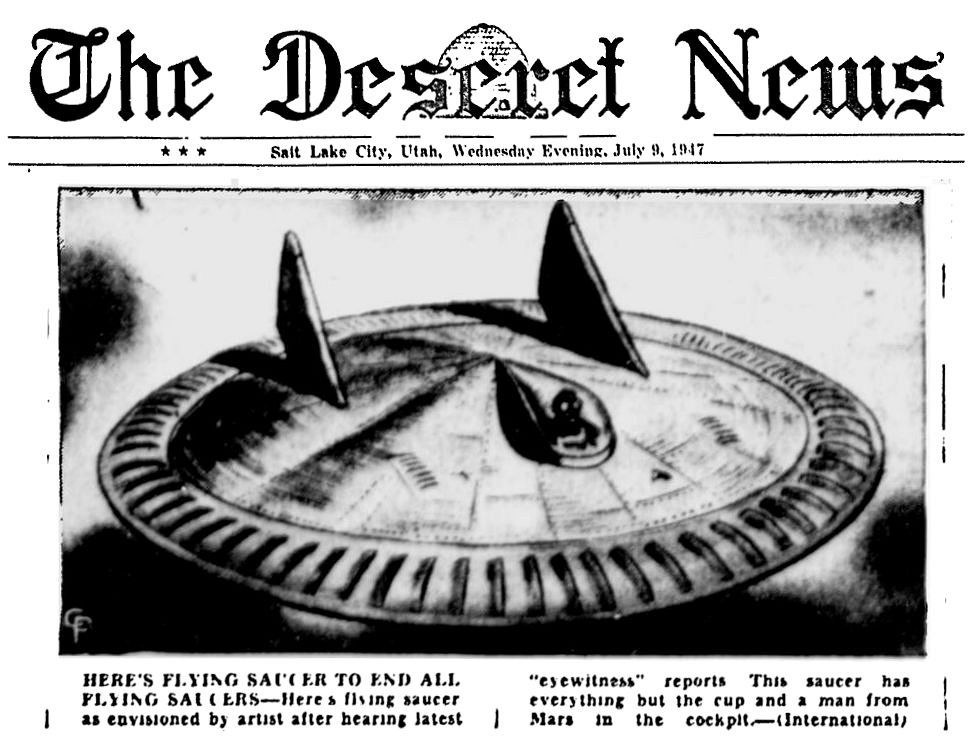 Prescott (AZ) Evening Courier, p.4, July 9, 1947

Boyle Relates Experiences As Prisoner on Flying Disc

By Hal Boyle

Don't tell me these flying discs are imaginary…  All you have seen is the reflection of the sides where patches of the infra-invisible paint were burned off these huge space ships as they passed too close to the sun on their way here from Mars.  Yes, Mars!  I am a prison about a 1947 model "Flying Saucer" from another planet.  …"Well how do you like your first ride on a flying saucer, Orson Welles?" leered the green man.  "You're on the way to a place where there are more Martians than there ever were in New Jersey." [allusion to Welles' 1938 "War of the Worlds" radio broadcast, where Martians landed in N.J.]   …"I'm Blamiston X-Ray O'Rune from Mars," said the green man…"

Abilene (TX) Reporter-News, p. 15, July 9, 1947

Boyle Skips Across Country on Flying Saucer With Green-Haired Man From Mars

(Editor's note:  Our Hal Boyle, returning from a two-day absence, insists he is the first man to come back alive from a trip on a "flying saucer."  …But we are turning down his expense account… which is what five cents a mile comes to after 48 hours in his 1,200-mile-an-hour conveyance). [Another reference to Kenneth Arnold's clocked speed]

By Hal Boyle

NEW YORK, July 8 (AP)—Safe after 48 hours and 57,600 miles in a flying saucer from Mars!  And now I can tell the world the story of what happened after Balmiston X-ray O'Rune, the eight-foot, green-haired Martian pilot, snagged me off a barstool and took me riding in a space ship.  You will remember that Balmiston—I got to calling him "Balmy"—and 499 other Martian pilots came here in flying saucers on a universe-wide "treasure hunt" sweepstakes.  The game was to find and take to Mars Orson Welles and eleven other difficult objects…"

Salt Lake City Deseret News, p. 3, July 9, 1947

The Flying Discs

By Bob Considine

DENVER—(INS)--…About those flying discs… the furore raised by the objects… is a grim footnote to this fretful truce we call the peace.  The A-bomb, the hints of bacteriological warfare, Russian rockets over Sweden, rudderless rumors about a new helium bomb, U.N.'s sharp cleavages, the physical and moral crackup of Europe and Asia, and the spread of Russian toward the English Channel all have conspired to create a perfect prelude to the current disc jitters.  A boogey-man radio broadcast such as the one that fellow Welles once made in the carefree thirties might in these days produce genuine panic, and cause the generals to bristle out of retirement roaring orders to their first line of defense—their public relations officers… I was in Sweden last fall checking on a somewhat similar phenomenon, the Russian rockets.  The Swedish Air Force had about 50,000 declarations in its possession, in which witnesses described seeing the things pass overhead. In the case of the Russian rockets there was a hard reality to deal with.  The Russians and the German V-weapons men they rounded up at Peenemunde and put to work on advance designs, had produced a bigger and longer-ranging V-1…  Atomic energy machines… could not possibly cause metal discs to go flying through the air.  It is not possible to build an atomically-powered airship at this time… Authorities familiar with secret weapons were forced to fib so much during the war that their scornful denials of the existence of flying discs actually corroborate the discs in the minds of some Americans…

Modesto (CA) Bee, p.16 (Editorials), July 9, 1947

Sky 'Saucers' Are Latest Mass Hysteria Example

…Fear of Nature is being replaced by man's conquest of the natural laws.  The development of the atom bomb opened up an unlimited field for the play of imagination of what might happen…  One person remarking on the "flying saucers" aptly summarized this feeling when he said, "I don't believe it, but nothing would surprise me."   …Predictions by charlatans and so-called scientists of the end of the world have produced, in numerous cases, mass hysteria.  And, of course, one of the classic examples of mass panic was Orson Welles' Man From Mars broadcast…

The Hartford Courant, p.1, July 9, 1947

Gromyko to Veto Saucers Is Rumor

... of the flying saucers instead of the normal interplanetary speculation. The FBI headquarters here is silent except for an occasional collective groan from ... (Missing rest of article—Proquest)

Los Angeles Times, p. 2, July 9, 1947

Disgusted Ab Dopes Disks as Airy D.T.'s

…Professor Hiatus Snodgrass of the Pacoima Interplanetary Cosmic Gravitation U-239 Institute (he sharpens lawnmowers by appointment), whom I was diskussing the disks with yesterday, advanced a most uninteresting theory.  He says what has happened is either: 1—A gooseberry pie factory slew up in Pocatello; 2—A squadron of flat pelicans buzzed Pismo Beach, or 3—What people has been seeing is light reflected from a flight of hysteria…

Toronto Daily Star, p. 1, July 9, 1947

WORLD END OR MARS ATTACK LONDON 'SAUCER' SCARE FUN

London, Ont., July 9—Two London women have been caught up in he "flying saucer" whirligig and it has left them both just a little nettled.  Mrs. James Ferguson... is foretelling either the end of the world or an attack from Mars.  She doesn't know which but she finds the build-up most entertaining.  Mrs. Alton Upthegrove has a cylinder on her hands which no one has been able to identify yet, but it landed on the front lawn of her Turnbull's Grove summer home last night in a glare of what she was was cerise light... after residents of the district reported seeing a "bright red light."

...Mrs. Ferguson began her speculations Tuesday night between 8:30 and 8:45 when she saw a "flying saucer," the second of two spotted by the Ferguson family...  Mrs. Ferguson said she and her husband, James, and her daughter, Kathleen, were standing at their front door listening to an altercation farther along the street when Kathleen glimpsed the first "yo-yo."  "Kathleen saw what she thought was a shooting star," Mrs. Ferguson says, "but it went so fast neither my husband nor I got a look at it.  But we all watched the sky and pretty soon we saw another come out of the south and go north.

"The one I saw was silver-colored and shaggy at the ends.  In the middle ofit was a bright burning light and there was a silver ring around the whole thing.  We kept it in sight for two or three minutes and then, travelling very fast, it disappeared.  It was no shooting star.  It was much bigger than a star it it left no trail behind it.  There was no smoke and there was no fire in its wake."

Mrs. Ferguson says her glimpse of the celestrial phenomenon has set her thinking.  "Personally, I think it might be the end of the world, or even an attack from Mars... It could be either.  But whichever it is, it's certainly entertaining...

Denver Post, p. 8,  July 8, 1947

Empty Beer Bottle Holds Clue to Disks

Man From Mars, Out on Treasure Hunt, Kidnaps Boyle

Tuscaloosa (AL) News, p. 3, July 8, 1947

Boyle Takes Spin In A Red Hot 'Saucermobile'

Scribbler Bottled up By Big Green Man And Now Headed For Mars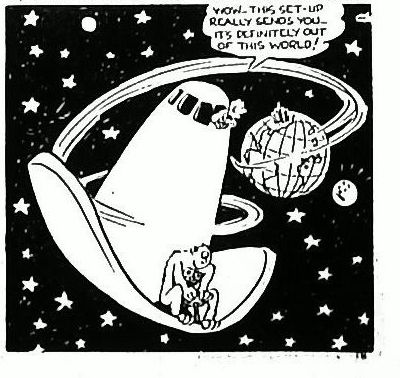 "Out of this world" cartoon accompanying Hal Boyle satire in Denver Post, July 8, 1947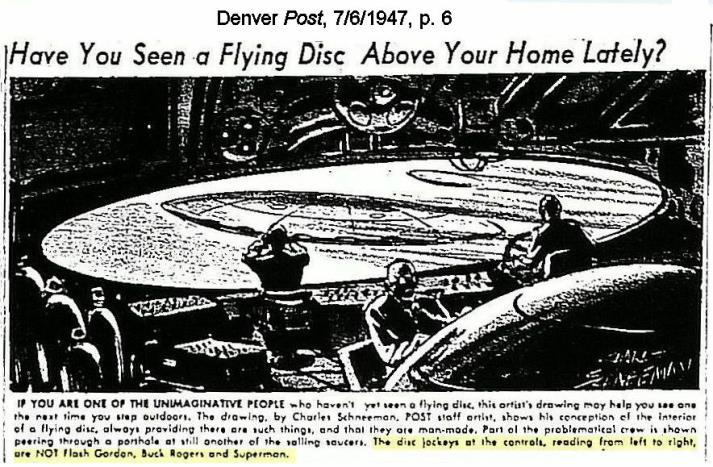 The Extraterrestrial Hypothesis (ETH) in 1947

Newspaper stories document how the brand new flying saucer phenomenon was instantly associated with the possibility that they were extraterrestrial in origin, contrary to many standard UFO histories