San Diego, CA, July 8, 1947

San Diego Union, July 8, 1947 (Morning), page 4

S. D. RESIDENTS IN DITHER OVER FLYING SAUCERS

--Weather Balloon Starts Rumors

    Voices of many San Diegans yesterday harmonized in the almost nationwide "I see a flying saucer" chorus.

    But U. S. Weather Bureau personnel just laughed over one rumor.  What was variously described by eye-witnesses as a "meteor or plane-shaped object traveling 500 miles an hour" actually was the routine ascension of a nine-foot helium-filled silvery balloon at 1:30 p.m. for atmospheric forecasts.

   Nonetheless, sight of the lazily rising balloon over Mission Hills for half an hour set off the usual inquiries and rumors.

CIRCLING OVERHEAD

   One Unidentified women insisted "a huge silver saucer is circling overhead, traveling at least 500 miles an hour."

   Another informed the Weather Bureau that "a large disc is over Mission Hills and it looks like it is trying to land at Lindbergh Field.

   Still a third described the presence of "what I think is a meteor."

   Despite the reports Kurt Muerdter, of the Weather Bureau, said such balloons normally rise at the rate of 1000 feet a minute, exploding when they read approximately 30,000 feet.  The balloons drift with the wind and rarely exceed 15 miles an hour, he added.

USED ONCE DAILY

    Weather balloons are released every six hours to record winds aloft for aircraft and weather reports.  The nine-foot balloons are used only once a day.  Other readings are taken with 15-to-18 inch red, black or yellow balloons.

    East San Diego residents worked up a fine dither during the afternoon after thousands of bits of metallic paper fell on roofs. lawns and streets.  The East San Diego police station, which garnered a few bits of its own, said it was the type of stuff dropped from planes during the war to jam enemy radar.

    The Navy surmised it was the prank of some civilian pilot, since a check of Navy fields revealed no such scatting of the "radar windows."  The Navy also said it had never head of elliptical pieces, which some residents reported they had found.  However, most of the stuff, reported often as broken segments of flying discs, was tinfoil.

ANOTHER EXPLANATION

    Another "explanation" of the discs came yesterday from Meade Layne, San Diego parapsychology student, who once before broke into the news with a claim that "one of his observers" had seen a space ship silhouetted against a full moon about the time many eyes were focused on the night skies in search of an astronomical phenomenon.  In a mimeographed postcard to The Union, Layne wrote:

    "The flying saucers are now believed to be etheric constructions; i.e., constructed in etheric matter and 'materialized here just as a 'dead' person or a solid object is known to materialize under proper experimental conditions (seances).

    "The discs can disappear by returning to the etheric level or vibratory state," Layne wrote.  The purpose is to attract attention to etheric worlds and life.  They come in peace.  They would like to try earth life for themselves."

FROM TRANCE CONTROL

    He disclosed that "this information comes from a hitherto dependable trance control."

    An unidentified man phoned from East San Diego that he had just seen four saucers "cruising along at about 100 miles an hour."

    Each of them, he said, was flying an American flag.  "And," he added darkly, "they're Russian saucers trying to fool us."

    Another man telephoned from Mission Hills that he had seen discs in the sky.  "I just had a haircut," he volunteered.

July 8, 1947, Contra Costa Gazette, (Martinez, CA), page 2

'FLYING SAUCER' IS IDENTIFIED BY WEATHERMAN

   SAN DIEGO, July 8. (U.P.) -- Local newspaper switchboards were flooded with telephone calls yesterday afternoon from residents of Mission Hills, exclusive residential district, excitedly reporting a "flying saucer" over San Diego.

    Shoppers and businessmen lined downtown streets peering intently at the sky.  Shouts of "there it is" and "look, a flying saucer" were heard as people gazed skyward at a round, silvery object apparently speeding aimlessly but speedily upward above the city.

    Finally the weather bureau solved the mystery.  They had just released an aerial weather balloon.

July 11, 1947, San Diego Union, page 6

MYSTERIOUS FOIL TRACED TO FLIERS

    The 11th Naval District, which for several days has been investigating appearance of mysterious foil radar "windows" in the East San Diego area, reported yesterday that they had been traced to an Army B-29 which dropped the foil to test radar equipment at Ft. Rosecrans.

    The B-29, flown from Tuscon, dropped the foil over the city, whereas Navy electronics units at Ream Field customarily drop their "windows" at sea.  This was why Naval intelligence officers were unable to account for the foil appearing on houses and in backyards.

    The "windows" were developed during the war to jam enemy radar.  They are thin strips of paper-backed foil.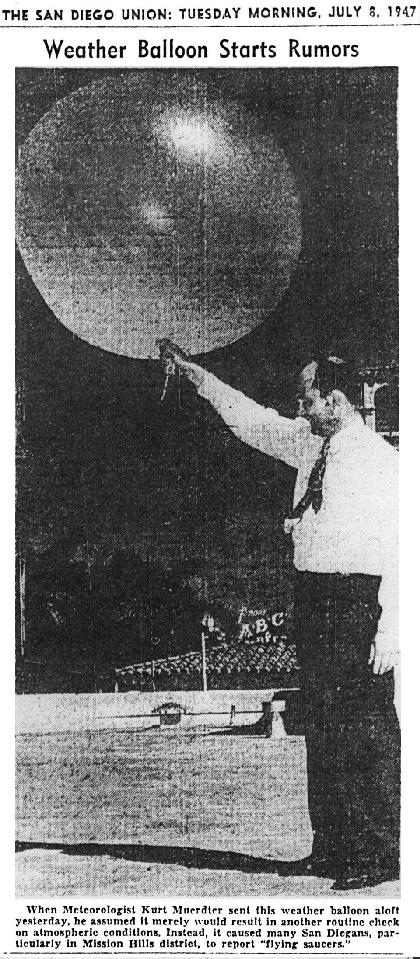 SILVER OBJECT SEEN

     Bob Wickham, 16, of 712 Nyantic Court, and Pat Curren, 14, of 831 Rockaway Court, Mission Beach, both reported seeing a saucer-shaped silver object, about the size of an airplane, flying South about noon just above of the horizon.

     R. W. Wisdom, a San Marcos rancher, said he saw a disc flying along very fast early Sunday.  "It left a trail of vapor behind it," he commented.

     Zack Mozley, 33, a clerk at a grocery store on Pacific Highway near the Marine Base, contended he saw a "flying saucer formation above the ocean and heading toward Tijuana."

"WENT INTO CLOUDS"

     "They went into the clouds soon after I spotted them and then appeared for about 22 seconds before going into another cloud," he said.  "They were silvery and reflected the sun."  He estimated the discs were 12 to 15 inches in diameter.

     Even San Diego's Young America has been influenced by the "flying saucer" saga.

     Nelson K. Carpenter, proprietor of a model airplane shop, said his heaviest current demand is for replicas of the discs.