Affidavit of Sgt. Robert Slusher

(1)  My name is Robert A. Slusher.

(2)  My address is XXXXXXXXXXXXXXX

(3)  I am retired.

(4)  I was stationed at the Roswell Army Air Field from 1946 - 1952.  On July 9, 1947, I boarded a B-29 which taxied to the bomb area on the base to get a crate, which we loaded into the forward bomb bay.  Four armed MPs guarded the crate, which was approximately four feet high, five feet wide, and 12 feet long. We departed Roswell at approximately 4:00 PM for Fort Worth [later Carswell AFB].  Maj. Edgar Skelley was the flight operations officer.

(5)  The flight to Ft. Worth was at a low level, about 4-5,000 feet.  Usually, we flew at 25,000 feet, and the cabin is pressurized.  We had to fly at a low level because of the MPs in the bomb bay.

(6)  On arrival at Fort Worth we were met by six people, including three MPs.  They took possession of the crate.  The crate was loaded on to a flatbed weapons carrier and hauled off.   Their MPs accompanied the crate.  One officer present was a major, the other a 1st lieutenant.  The sixth person was an undertaker who had been a classmate of a crewman on our flight, Lt. Felix Martucci.  Major Marcel came up to our plane in a jeep and got on board.  We were at Fort Worth about 30 minutes before returning to Roswell.

(7)  The return flight was about 20,000 feet, and the cabin was pressurized.  After returning to Roswell, we realized that what was in the crate was classified.  There were rumors that they had carried debris from a crash.  Whether there were any bodies, I don't know.  The crate had been specially made; it had no markings.

(8)  We brought Maj. Jesse Marcel back on the flight.  Capt. Frederick Ewing was the pilot; the copilot was Lt. Edgar Izard. Sgt. David Tyner* (*SUB Eng. Lt. Elmer Landry flew on this flight); the navigator was James Eubanks; others involved were T/Sgt. Arthur Osepchook and Corp. Thaddeus D. Love. The MPs also came back with us.

(9)  The flight was unusual in that we flew there, dropped the cargo and returned immediately.  It was a hurried flight; normally we knew the day before there  would be a flight.  The round trip took approximately three hours 15 minutes.  It was still light when we returned to Roswell.  Lt. Martucci said, "We made history."

(10)  I have not been paid or given anything of value to make this statement, which is the truth to the best of my recollection.

(signed) R. A. Slusher

May 23, 1993

Signature witnessed by:

Karl T. Pflock

5/23/93

[Source:  Roswell in Perspective by Karl T. Pflock, 1994, Fund for UFO Research (FUFOR)]

Testimony and Story of Wayne Lloyd Thompson ("Tim")

July 9, 1947 DEH, Ship 7301.  B-29.  Cross country.  Ft. Worth and return.  Flight time 1 hr. 55 mins [Note: one-way flight time]

The following was the letter from Thompson:

On this day (July 9, 1947) our crew had not been on the flying roster.  We had accomplished our period of ground school in the morning, then went to the skeet range after lunch.  The Aircraft Commander had broken 48 targets, and I was next with 47 out of 50.  The sergeant in charge of the range asked us if we had heard about the "flying disc" that had crashed out in the desert.  Twice more before leaving the skeet range, we heard reports of a spaceship with bodies inside that had been found on a ranch in the area.  When the truck dropped us off at the squadron area, most of the other crews had been released for the day.  The operations officer told our captain to keep the crew together because he thought he had a flight for us.  We expected this was a last-minute test hop on a plane needed for the next day's mission.  I loved test hops, for on many of them, the pilot would let me be the co-pilot and sometimes I would get to make a landing.

We were sent out to pre-flight our own airplane; we knew then it was no test flight.  The pre-flight of a B-29 was a lengthy operation, requiring a visual pressure check of each engine's fuel system, plus many other details.  An hour later we were told to taxi the plane to the "Pit", a place where the atomic bomb was normally loaded.  We were positioned so the front bomb-bay was directly over the pit which was covered with a large tarp.  But no atomic bomb was in the pit that afternoon.  When the canvas was removed by the loading crew, all we could see was a very large wooden box.  We stood of to the side and were not allowed more than glimpse of the loading process.  The box was sitting on a platform of the type we often used on which to carry cargo.  Once the load was secured in the bomb-bay, four military policemen went inside and took positions at each corner of the box.  I think two of them were majors, and one a lieutenant.  The fourth man was an NCO.  Three other officers of company and field grade were positioned in the forward and aft crew compartments.  The officer crew members went to base operations for flight clearance and briefing.  When they returned only the bombardier was allowed to go in the bomb-bay and check the security of the load.  The engineer and I had been given a cargo weight, which I remember was no problem at all, and no ballast was required in the tail, so my guess now is that it was less than five thousand pounds.

Once airborne, we were told the destination was the AAFB at Fort Worth, Texas.  By now, we were aware that this was no routine cargo mission.  The rank and number of the MPs were clues that we had something important on board.  One of our officers speculated that it was the household goods of some high-ranking ground pounder being transferred to Ft. Worth.  This was a reasonable guess.  I do not remember connecting it with the "flying disc crash" story, until we were on the way back.  We left most of the security people in Ft. Worth.  I think only one or maybe two came back with us.  I do remember the strong lecture of this being a routine flight that we must not talk about.  One of the crew, a very outspoken individual, said on the way home, that we were now a "part of history."  He went on to say, he knew it was the disc and remains of the flight crew because he had seen a man he recognized in the reception group.  This man was a mortician by military speciality.

For weeks rumors were plentiful, and we were hard pressed to maintain the silence we had been ordered to keep.

Stringfield later identified the crew member knowing the mortician as "Captain FM," obviously referring to Felix Martucci, also identified by Slusher.  Thompson also remembered seeing Maj. Jesse Marcel on the return flight.  Marcel was the Roswell intelligence officer, ordered to fly the "flying disc" debris to Fort Worth the previous day, where it was quickly debunked as a weather balloon.  In another interview with Stringield, Tim added the following comments about the flight:

"Everything about the flight was unusual.  We flew at an unusually low level and so tight was security, we knew that the crate contained more than the general's furniture." It was made of wood, he said, and was unpainted and unmarked as though hastily constructed.  Fitting snugly into the bomb-bay, its approximate size:  5 ft. high, 4 ft. wide and about 15 ft.

long.

The Unusual B-29 Crate Flight of July 9, 1947

Testimony indicates flight carried bodies from Roswell to Fort Worth

There are now many witness accounts of the bodies recovered at Roswell being taken to base Hangar 84/P-3 for processing and shipment out of the base.  (See, e.g., affidavit of
Walter Haut
and testimony of
Eli Benjamin
)  Beverly Bean said her father Sgt. Melvin Brown specifically told her of seeing the aliens and guarding them at the hangar during the night (probably July 8/9) as they awaited shipment to Texas. (For more of Bean's testimony, see
Glenn Dennis
page)
S/Sgts.
Robert Slusher
and
Ernest Lloyd Thompson
("Lloyd Thompson"), were crew members on a strange B-29 flight on the afternoon of July 9 from Roswell AAF to Fort Worth AAF, now suspected of carrying at least some of the bodies, and gave the testimony provided below.  Both men noted that the flight carried a large wooden crate in the bomb-bay under armed guard, which was extremely unusual.  Both mentioned a fellow crewmen, Felix Martucci, who knew one of the men, a mortician, who took possession of the crate in Fort Worth.  On the flight back, both Slusher and Thompson remembered Martucci saying, "We made history." Because Martucci knew the man to be a mortician, he said the crate must have contained the remains of the crashed craft and crew they had been hearing about.  Thompson also mentioned recognizing another man on the flight, a doctor from the base hospital who had recently treated him, but who was disguised as a security officer. They were never told what was in the crate, but Thompson recalled being told that it was "classified" and they shouldn't talk about it. 
A more recent second-hand witness was Blanche Wahnee, daughter of top-level security officer Meyers Washnee, identifying her father as one of the security officers that guarded the crate in the bomb-bay.  She told researchers Tom Carey and Don Schmitt (Witness to Roswell, 2007, p. 203) that her father first told the story in 1980.  He had been flown in from Fort Simmons Colorado to oversee transport of a "Top Secret item" from Roswell to Fort Worth by a special B-29 flight.  The item was a single, large wooden crate that he was to accompany in the bomb-bay.  He told the family that the crate contained the alien bodies recovered at Roswell and that the Roswell Incident was true.

Filer's Files #14

4-10-00

I was at Roswell in 1947 to early 1950. I was as at the time a gunner in the 393rd Bomb Squadron, 509th Bomb Group and a member of Captain Frederick Ewing's B-29 combat crew with tail number 44-7301 (Straight Flush) .. On Wednesday, July 9, 1947, our crew transported a crate to Carswell Army Air Force Base, Fort Worth, Texas in 1:55 minutes. The mission and cargo was classified. The crate was hauled in the front bomb bay and armed guards rode in that bomb bay with the crate. When I removed the down lock, I saw a Major and a Technical Sergeant in the bomb bay and some others in there. They rode the whole trip in the bomb bay and did not return with us. We flew unpressurized at about 8,000 feet. Our bombardier made a safety check of the shackles which held the platform secure. Those shackles were rigged so that the cargo could not be jettisoned. The corporal tail gunner and I saw the crate when we removed the down locks from the from the bomb doors. The crate was covered with a tarp when unloaded and taken away on a trailer at Carswell. I would guess the crate was about 12 x 6 x 6 feet. The engineer and I talked about weight and balance. They evidently had not given him a firm figure on the weight. He said with a laugh, "As long as it isn't more than five thousand pounds our center of gravity should be okay." We knew that Ft. Worth was to be our landing point, and we might get to see the new B-36 bomber. Someone made a remark about carrying "The General's Furniture". There had also been rumors for a couple of days about a spaceship crash, but we were only told it was classified cargo and to stay back.

On the way home, I went forward to chat with Warrant Officer Landry about minor problem with a prop. We had the Curtiss Electric's and there was concern that one of them was hunting a bit. Major Jessie Marcel rode back to Roswell with us and I talked briefly with him. He was always interested in the enlisted men on flight crews. He wanted gunners to be good observers when on long missions. I don't think his questions that day were probing. We were useful mostly as scanners because we had only tail guns. He asked if I was anxious to get into B-36's? We were told repeatedly not to talk of this incident, not even to our wives. I held that inside until 1988 when books began to appear. To this day I am in touch with one other member of our crew. Most of the others are no longer alive. Major Ewing was killed in a B-47 crash in Florida in 1952.

Sometime afterwards, about three to six months later, the wives began talking among themselves about the cleanup detail. This originated from the wives of men on that duty. One such was a neighbor of ours in July 1947. They moved across town, but I would sometimes see him and I ask him what he had seen out there. He was upset and told me, "You don't want to know." I think he was a baker because he would leave for work in the early morning, like 0130 hours. A time or two when I'd come in from a late flight he would be standing on the corner waiting for a ride. They did not own a car. Based on the wives gossip we heard that he had seen a body.

Later, I became a pilot and while in SAC and was an instructor in the Aero-clubs and moonlighting as a crop duster. Aviation has been my life. While in SAC KC-97's at March AFB our crew had two weird experiences, with something that officially wasn't there. You may put the story in your Filer's Files.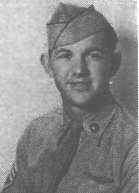 A second crew member on the B-29 flight to give detailed testimony was Ernest Lloyd Thompson (identified in books as simply "Lloyd Thompson), who was given the alias "Tim" for many years.  Thompson was a gunner and assistant flight engineer with the 393rd Bomb Squadron.  (Thompson was previously identified here and elsewhere as another "Lloyd Thompson", a PFC who was with the 603rd Air Engineering Squadron.)

Thompson chose not to go public in 1990 when he started receiving unusual phone calls which he considered to be veiled threats.  Thompson died in 2004.  According to his son, Lowell, he first told the family the story in 1984 and showed him his old flight logbook documenting the flight. 

Thompson first publicly emerged in 1989 when he sent a letter to Barry Greenwood, editor of Just Cause.  Greenwood forwarded the letter to Leonard H. Stringfield, the dean of "crashed saucer" story collectors.  Stringfield published the text of the letter in his Status Report VI, July 1991 along with Thompson's personal flight log recording the flight.   His log listed five flights in July, 1947.  The relevant one was on July 9 with the entry reading as follows:

Sgt. Robert Slusher 393rd Bomb Squadron, flight engineer, in 1947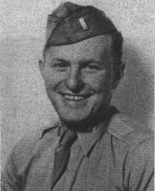 1st-Lt. Felix Martucci,

393rd Bomb Squadron, 1947



S/Sgt Ernest Lloyd Thompson

393rd Bomb Squadron, 1947

Quigley said he had never been ordered to stand guard before or since, and thought he had been chosen because he had the highest security clearance available.  Normally MPs guarded even the loading of A-bombs, but he later heard that something "bigger than the A-bomb" was going on and the MPs didn't have a high enough security clearance.  Besides himself, there were two officers, and another enlisted man with the same high security clearance.  Lethal force was authorized if necessary.

It was normal procedure when loading the B-29s with some high-security item like an A-bomb to have canvas screens erected around the bomb pit so that nobody could see in.  However, this loading was highly unusual in that a double row of canvas barriers was erected, with the four guards supposed to patrol in the tunnel between the two layers.  "The double row of canvas barriers was not normal and way, way out of the ordinary."  The purpose seemed to be to prevent the guards from seeing what was going on outside the area as well as in the bomb pit.  At the time, Quigley thought they were loading an A-bomb, but heard a few days later that he "had guarded the alien bodies that everyone was talking about that were stored in The Pit that night in preparation for flying them to Texas."

The obvious conclusion, based on the circumstantial evidence provided by this testimony, is that the closely-guarded crate contained bodies.  This is certainly consistent with my interpretation of the Ramey message of July 8 that aviators "IN THE 'DISC'" were to be shipped to the 8th Army Air Force flight surgeon at Fort Worth by a C-47 or B-29 Special Transport plane.

Additional, though weak corroboration of this, has come from Tom Carey, who told me in a personal communication that the son of the flight surgeon when contacted confirmed that his father was involved, but had nothing further to say about the matter.

Witness Quigley said that after the shift, they were ordered over to squadron headquarters and ordered to sign a piece of paper saying that "It didn't happen," i.e., he never guarded the plane. It was the only time he ever signed such a statement.

A seeming discrepancy in the B-29 stories is that Quigley noticed that the tail number of the B-29 he guarded was #291, nicknamed "
Necessary Evil
."  However, the B-29 described by Slusher and Thompson carrying the crate was #301, "
The Straight Flush.
"  When asked about this, Slusher explained that "Necessary Evil" was the crew's regular aircraft.  They were therefore surprised that they had been reassigned to the "Straight Flush." Slusher, the flight engineer, told Carey, "We found out later that the cargo we were carrying that day--large wooden crate--would not fit properly in the forward bomb bay of the "Necessary Evil." So at the last minute, the "Straight Flush" was substituted in its place." (Both the "Straight Flush" and "Necessary Evil" flew support for the A-bombing at Hiroshima.)
A third surviving crew member, S/Sgt. Arthur Osepchook, has also been interviewed recently by Carey & Schmitt.  (
New 2010!
See also Feb. 24, 2010 interview with Osepchook on Coast to Coast AM:
Part 1--starting at 6'15"
,
Part 2
,
Part 3
) He confirmed the crate flight and the identities of the various crew members, but didn't remember much beyond that.  Like Lloyd Thompson, he did clearly remember rumors rampant at the base that morning before the flight, of a crashed "spaceship" with "little bodies."  Unlike Slusher and Thompson, he said he never got a look at the crate because it was kept concealed by MPs from the crew while it was loaded into the bomb bay.  This shocked him, because they all held top-secret clearances and were cleared to fly A-bombs.  He was quite certain that whatever was in the crate was "something special" and "top secret." He was also surprised that they were never allowed to disembark at Fort Worth, instead being ordered to immediately return to Roswell.  On the way back he remembered one crew member saying they'd made history, and another saying they were never to talk about it. He said after the flight, they were debriefed and told "nothing was going on."  Then a meeting of the entire bomb squadron was called in one of the hangars where they were told that there was no such thing as flying saucers and that a crash never happened.  They were not to talk about any of this, not even with their wives.
Carey & Schmitt located another eyewitness, Cpl. William Quigley, also with the 393rd Bomb Squadron, who guarded a B-29 under very high security at Bomb Pit 1, the same bomb pit that Slusher said their crate was loaded at.  Quigley said it was at the same time as all the base rumors about the UFOs.  The pits contained hydraulic lifts for loading large loads like A-bomb into the B-29 bomb-bays.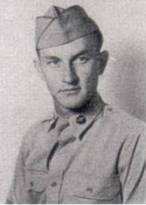 Cpl. William Quigley,

393rd Bomb Squadron, 1947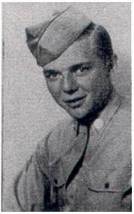 S/Sgt. Arthur Osepchook,

393rd Bomb Squadron, 1947